All Artists Once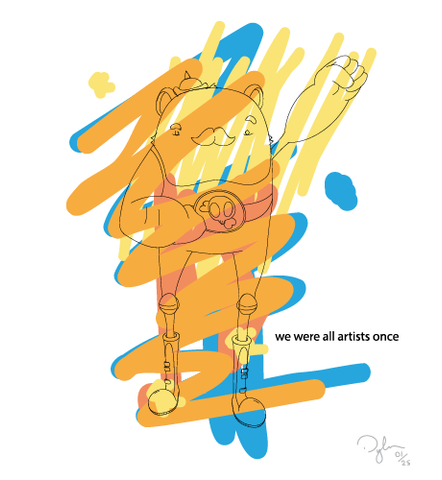 Nothing could stop us then. We worked on our hands and knees and we didn't care. Desks? Rules? All we needed was the cool, waxy touch of our crayons rushing to keep up with the path forged by our imaginations. Sometimes in places that were hard to clean. Sorry, Mom.
Self-doubt? We didn't even know the word. Literally. Not that we'd need it. There was nothing to doubt. No right or wrong -- just play. Even now the dizzying smell of an uncapped marker brings us back to some of our most creative days. Let this print serve as a reminder to the self-proclaimed uncreative.  You were and you still can be, if only you'd let yourself remember how.
This print comes signed and numbered by the artist, who wishes you'd let your inner artist out at least once today.